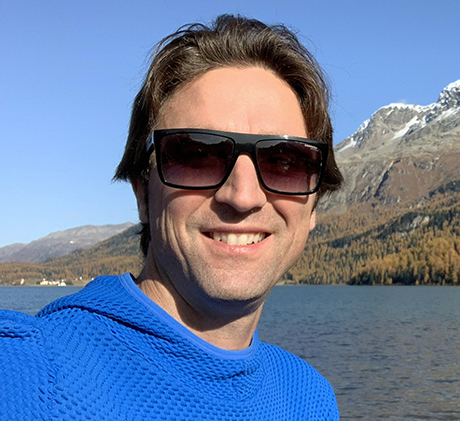 My name is Marc Oria and I was born in Barcelona in 1978. I just finished my third year as the Varsity Women Head Coach at the University of Cincinnati (UC). I am married with Maria since 2005, who also is a rower, and together had our daughter Marina in 2006. We are currently living and working in Cincinnati, OH. I am working as a Research Faculty at Cincinnati Children's Hospital and as a Rowing Coach in Cincinnati. My wife is currently working at TKMUS as an Accountant/Controller and my daughter is in 8th grade at Indian Hill School.
I was rower at the Reial Club Maritim de Barcelona, where I earned numerous medals at the Regionals and Nationals during my carrier in Spain from 1994 till 2008. I rowed for Catalunya National Team from 1998 till 2007 and for the Spanish National Team at the U23 World Championship in 1999, World Cup and Final Olympic Qualification and World Cup in 2000, World Championship in 2001 and World Cup in 2002.
I still rowing here in US for the University of Cincinnati and Cincinnati Rowing Club.
I have a large experience coaching in Barcelona (Spain), from 2000-2008 at the Reial Club Maritim de Barcelona (RCMB), one of the oldest rowing clubs in Spain. Founded in 1902 by the fusion of the Yacht Club and the Regattas Rowing Club which was already running 20 years before since 1882.
I started as a rowing course instructor and I end up as the Director and Head Coach in 2008. Also, I was the Head Coach at the Club Rem Badalona (CRB) from 2010 to 2012. My coaching resume also includes experience as a coach in the Catalunya National Team in 2006.
During my carrier as a coach I coached several athletes who have reached the Catalunya and Spanish National Team and whom competed at the Junior and Senior World Championships like Angel Cesar, Jordi Malia, Marcel Capella and Alexandra Felter. Also, I coached for 8 years Anna Boada who reach Olympian level (Spanish Women 2- in Rio, Brazil) who also finished 3rd in the World Championship 2018.
I earned a Biological Science degree at Barcelona University (UB), a PhD in Neuroscience from Barcelona Autonomous University (UAB), Post-Doc at University College of London (UCL), Post-Doc at Cincinnati Children's Hospital (CCHMC) and currently as Faculty Senior Scientist at Cincinnati Children's Hospital (CCHMC). But also, I got my Sports Technician Training Course (3 credits) and Rowing Coach (22.5 credits) in Spain and US Rowing Coach level 2.
I am continuing my carrier as a scientist and as a rowing coach, my two passions in this life. I really believe that both, academic and sports carriers are important in the development of the students/athletes' carriers. Being a full-time coach will be a dream come true as I always had to work harder to keep both, academics and coaching.
During my carrier I had the experience to work with the best coaches in the rowing field in Europe like, Thor Nielsen, Bienve Front, Manolo Bermudez, Nicolai Lozanov, Jose Maria de Marco and also, with the best scientist in their fields like Juan Cordoba, Rajiv Jalan and Jose L Peiro.  Both sides of the student's and athletes' carriers have to be linked and in harmony for their fully succeed.
I have experience coaching large groups of athletes and I have experience mentoring and teaching students to make them have a great success in their carriers not only in rowing but also in their carriers after school.
I consider myself a very talented coach but also, I am friendly, positive and easy to talk person and I like to motivate my athletes to make them understand that the hard work and the perseverance it's the only way to make their dreams come true.
I like to focus in their development as athletes, in which they have to control/ learn what really means to be a professional athlete; they have to take care of their life, education, training, diet, rest and sleep as part of the workout plan for the succeed. With time they realize and appreciate because they will get in return not only medals, also huge improvements in their skills and athletic conditions which are basic in our sport.
I created my crew of athletes in 2020 and I am continuing assisting coach Reilly Dampeer at the US Rowing High Performance Center in Oklahoma continuing my carrier as a high level coach as I did very successfully in Spain with regional and national championships and in US with a bronze medal and a 4th place at ACRA in Open and LtWt 4+ in 2017, silver medal at ACRA with the Open 4+ in 2018 and recently gold medal in the LtWt 4+ and bronze in the Men's 1x at ACRA 2019.